Microcrystalline Cellulose Powder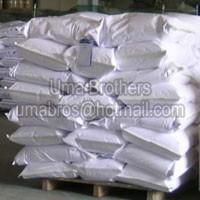 Business Type
Exporter, Supplier
CAS
9004-34-6
Physical State
Powder
Thickness
500um
Click to view more
Product Details
Molecular Weight
196.59 g/mol
Usage
Industrial, Laboratory
Supplied By
UMA Brothers, India
Microcrystalline cellulose is a term for refined wood pulp and is used as a texturizer, an anti-caking agent, a fat substitute, an emulsifier, an extender, and a bulking agent infood production.[1]

The most common form is used in vitamin supplements or tablets. It is also used in plaque assays for counting viruses, as an alternative tocarboxymethylcellulose.[2]

Microcrystalline cellulose (c6h10o5)n is refined wood pulp. It is a white, free-flowing powder. Chemically, it is an inert substance, is not degraded during digestion and has no appreciable absorption. In large quantities it provides dietary bulk and may lead to a laxative effect.

Microcrystalline cellulose is a commonly used excipient in the pharmaceutical industry. It has excellent compressibility properties and is used in solid dose forms, such as tablets. Tablets can be formed that are hard, but dissolve quickly. Microcrystalline cellulose is the same as cellulose, except that it meets bp/usp/ep standards.
Looking for "
Microcrystalline Cellulose Powder

" ?